5 day uMoose Hunting
Moose are more plentiful in Newfoundland than any other place in North America. The area that we hunt is one of the most populated with a good concentration of trophy moose. Moose hunting season begins the second Saturday of September and ends the second Saturday in December. Bow hunting starts two weeks earlier.
There is a hunt to suit each individual's needs. You can hunt from pickup trucks on many miles of logging roads, by a.t.v's or on foot hiking through the vast wilderness and checking out the bogs. Moose have a long mating season. Our guides are very good at "calling moose out" and that gives you a chance for a good shot. Our success rate is 90%.
You can check out our beautiful coastline or do some ocean fishing. You can see whales and much more ocean life. You can also go fishing from our dock, where you can catch different types of fish. You can watch fishermen at work.
We provide airport pick-up, to and from Gander airport. We have trucks, A.T.V's, boats and canoes. With such a wide range of equipment we can offer a variety of hunts to hunters in any physical condition. Home cooked meals with some traditional Newfoundland foods will pleasure your taste buds. Our guides are the best there is and will take good care of you. We provide most everything for your trip. Our hunting packages are from midday Sunday to midday Saturday. It's a 5 day hunt, Monday to Friday.
Meat Care: When an animal is taken down, the hunter can help but the guides take the animal out of the woods and take it back to the shed that is next to the lodge. There it is skinned and washed down with a water hose. It is then taken to the butcher which is not far away. The butcher can debone and vacuum seal the meat. He can cut the meat whichever way the hunter wants and do mince meat, sausages, etc..
Not included: cost of meat cutting, packaging & shipping and alcoholic beverages.
You need: to bring your own personal hunting gear, such as warm inner clothing, good rain gear and water proof footwear. Your rifle should be sighted in for 150 - 200 yards.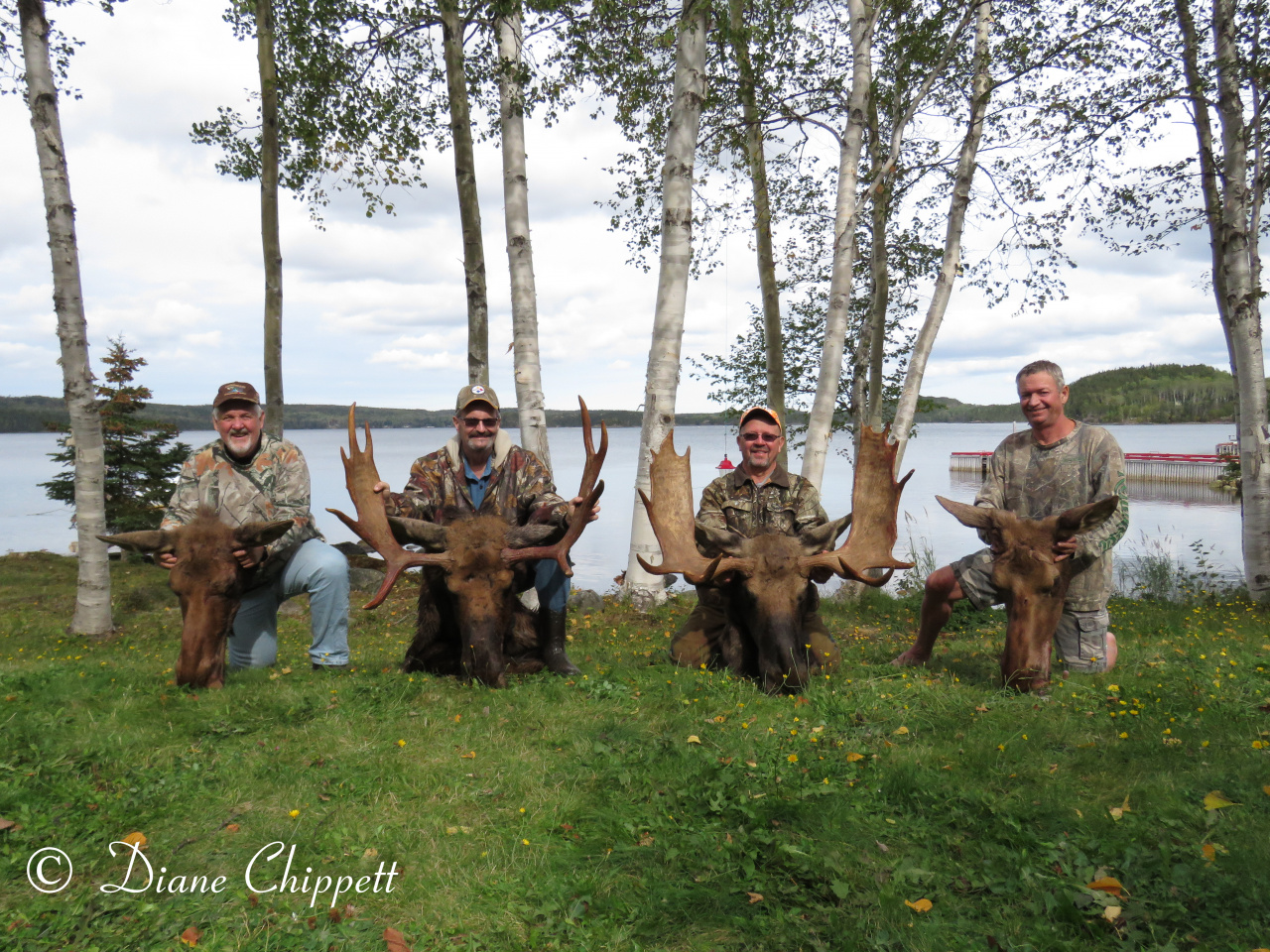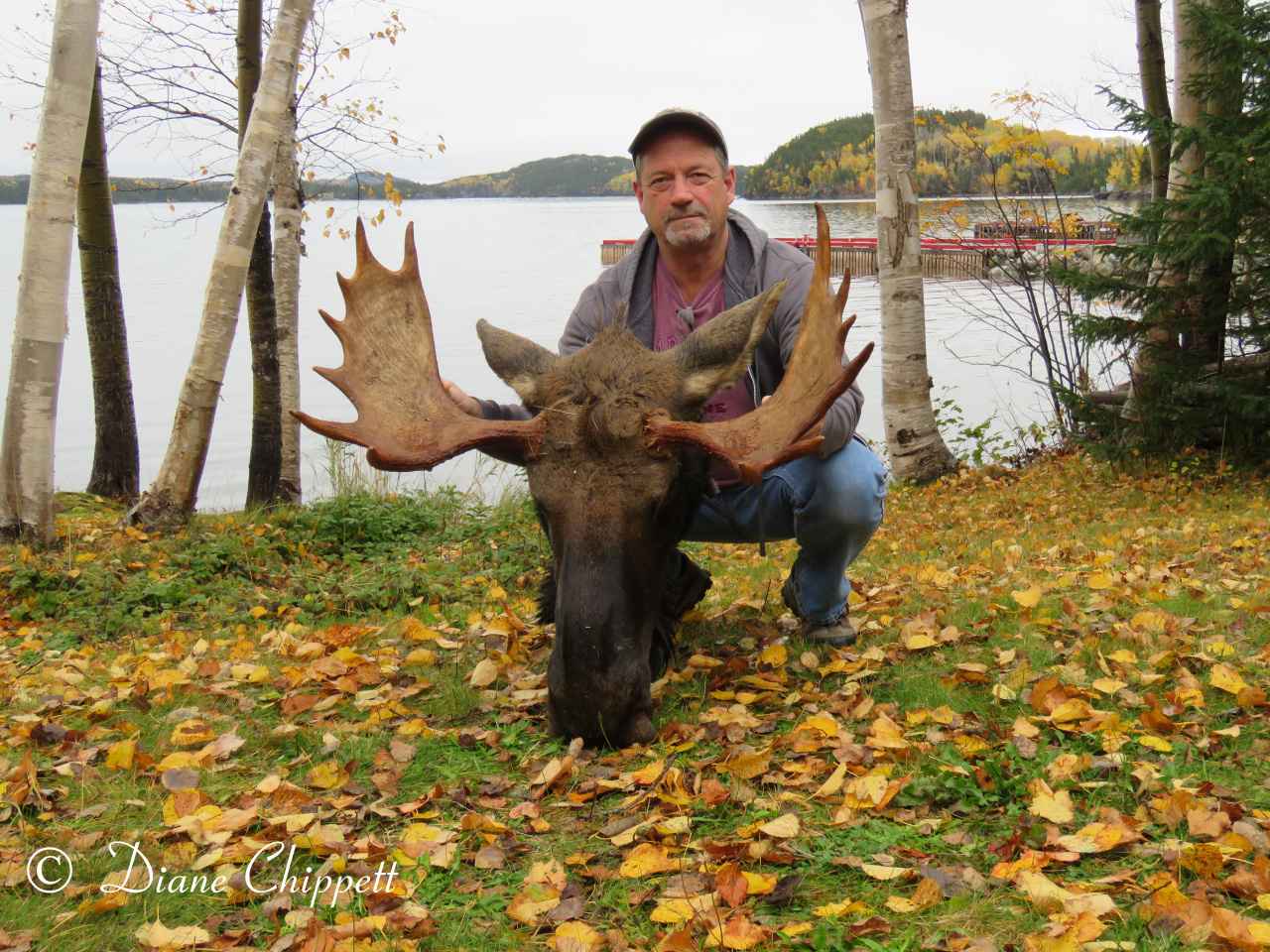 Black Bear Hunting
Newfoundland black bear are known to be the biggest in North America. Bears have been shot weighing as much as 687 lbs. Our hunts are done by baiting but you can see bears in the area without baiting. Because there is very little local hunting done in our area there are a lot of bears. You can combine fall bear hunting with moose hunting. Fall bear hunting season is from the second Saturday in September to the last of October. Bow hunting starts 2 weeks earlier.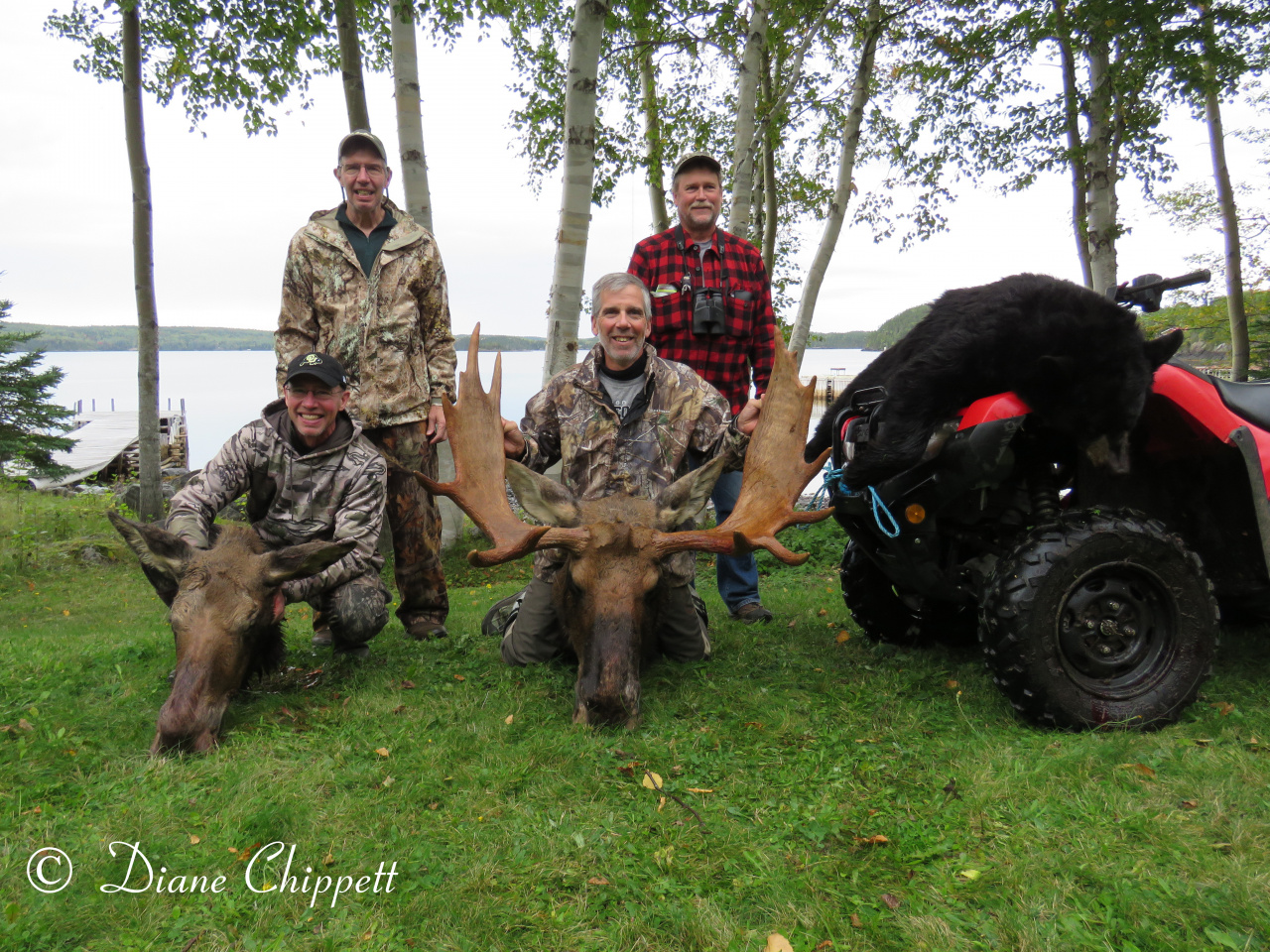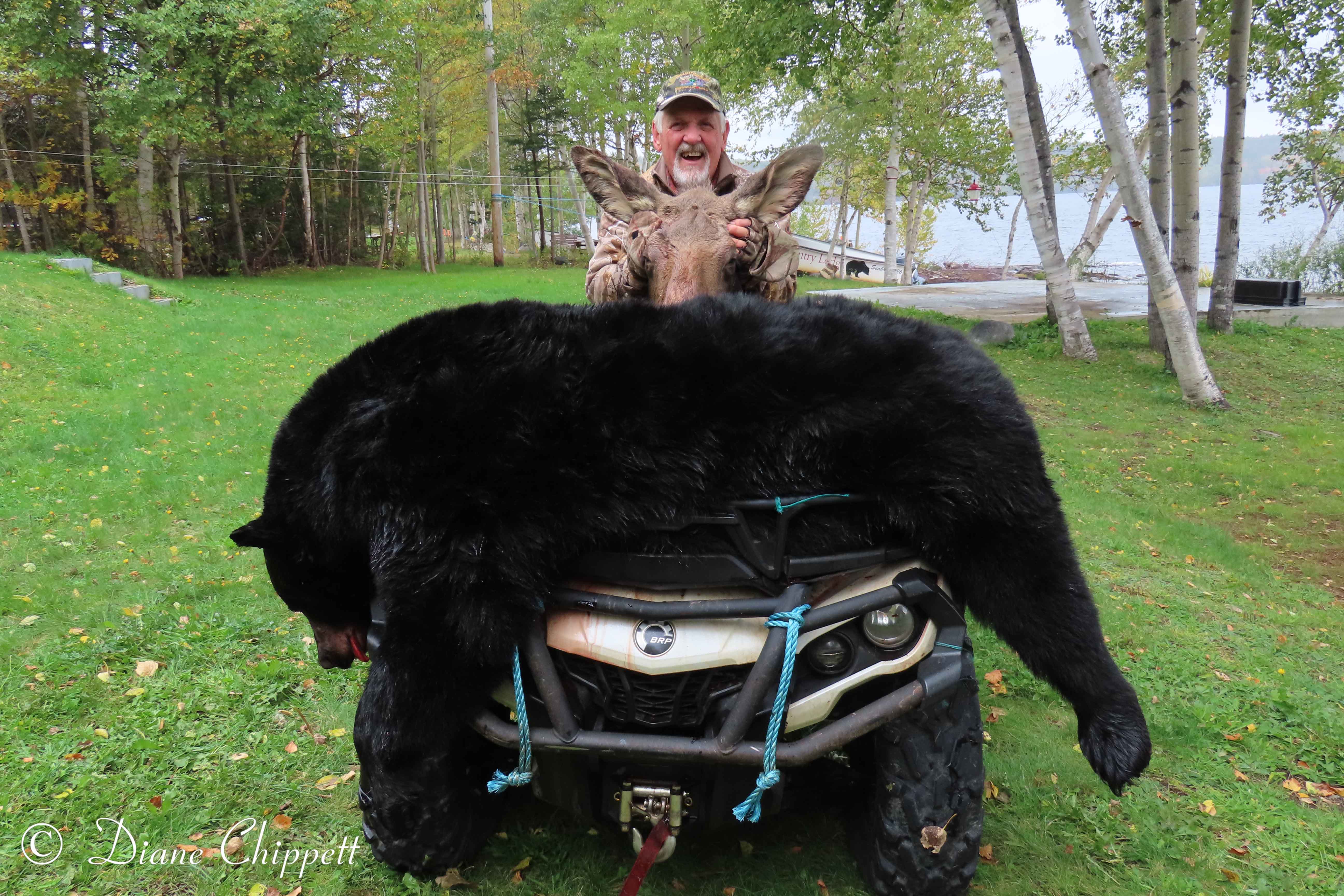 Spring Bear Hunting
Spring bear hunting is from the middle of May to the first of July. This hunt can be combined with salmon and trout fishing. At this time you can also take a tour to see icebergs & whales and enjoy some fresh from the sea, mouth-watering sea food such as lobster, crab, scallops and mussels. These extra activities are at no extra cost.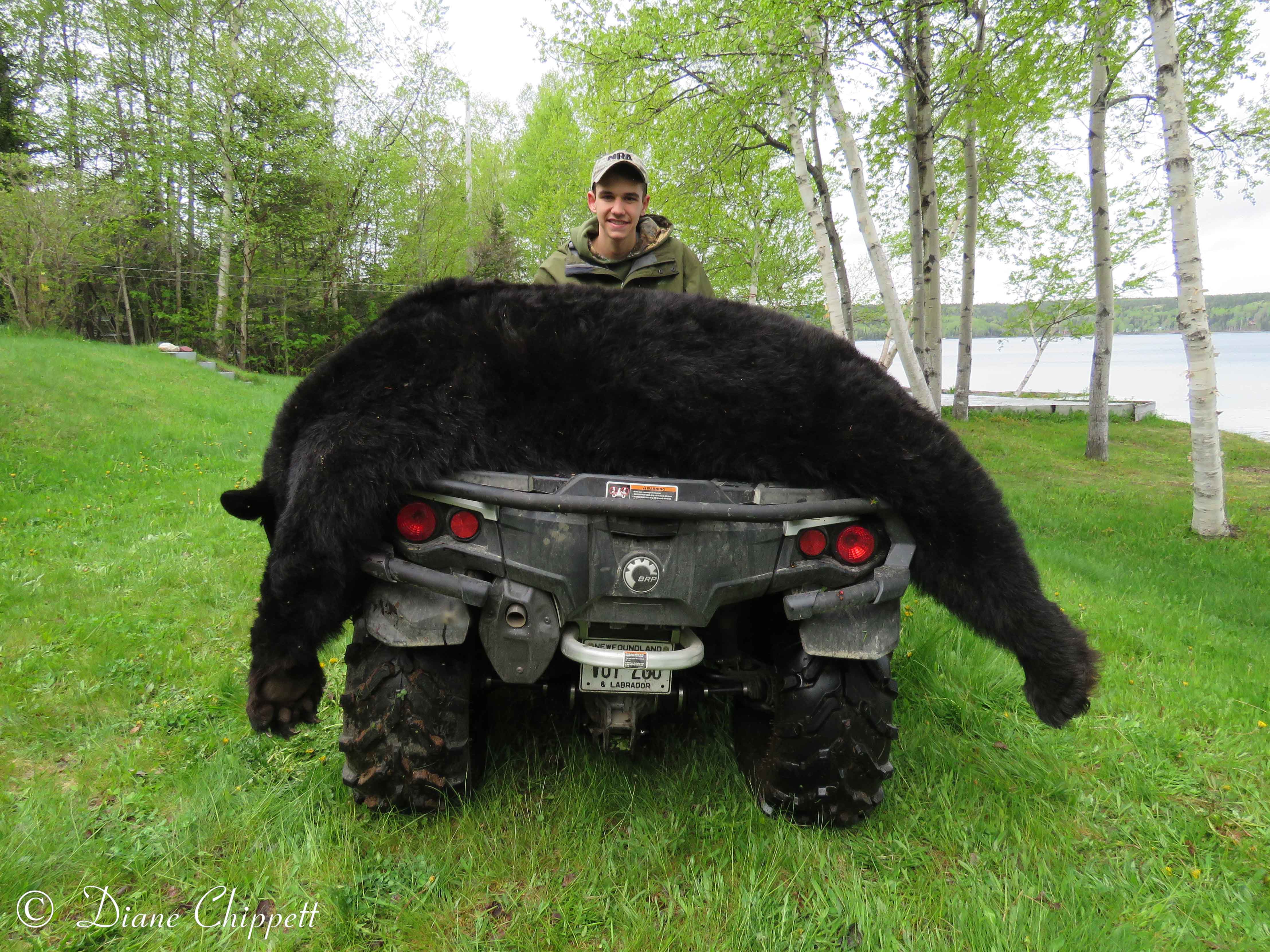 Bow Hunting
We accommodate archery, as well as rifle, at any time during hunting season, but the special bow hunting season preceding the rifle season by two weeks allows for prime hunting and excellent stalking.